Blog
Interesting Darjeeling Tea Recipes
by Vikram Mittal, Nutan Lugani on Jun 24, 2021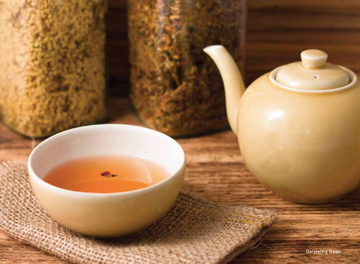 DARJEELING - A name synonymous with high tea from the hilly district of Darjeeling in West Bengal which produces exquisite teas which cannot be replicated anywhere in the world. The soil, the steep slopes, the wind and the rain bestow the tea with "terroir" or the taste of place. In 2011, Darjeeling tea was officially registered under the Protected Geographical Indication, an intellectual property right which ranks it at par with brands like Champagne and Roquefort.
Darjeeling First Flush is harvested at the arrival of spring. The tender shoots yield a tea which is pale gold, has a flowery aroma and is pleasantly astringent.
Darjeeling Second flush is darker, with the greenish scent giving way to riper, fruitier notes. It has more colour, is lush and mellow in taste.
Muscatel is the most prized flavour of the top Second Flush teas and has lingering fruity notes, with fuller body and a rich aroma.
SUNBURST
1⁄2 cup water
1 tsp Darjeeling Second Flush or Muscatel leaf or broken
1⁄2 cup milk
2 strands of turmeric (dried) or 1 thin slice of fresh turmeric Pinch of green cardamom (powder)
1 tsp honey (optional)
4 almonds (soaked, skinned and and slivered)
Heat the water, milk and turmeric to boiling point.
Add tea leaves and cardamom. Simmer for 30 seconds. Switch off heat. Strain. Add honey (optional). Garnish with slivered almonds. Serve hot.
Tea Master's tip: The addition of milk softens the brew while the tea adds aroma and flavour. The curcumin in turmeric lends a golden hue. Antibacterial and Antiseptic turmeric makes this brew a good night cap for clearing congestion and inflammation.
DARJEELING DUSK
1 cup water
3⁄4 tsp Darjeeling Second Flush
3 vetiver strands (tied together with a fourth strand)
Place tea leaves in a white ceramic pot. Heat the water and before it boils pour into the pot from a height of 6 inches.
Steep for 4 minutes. Strain into a fine bone china cup. Use vetiver strands as a stirrer. Serve warm.
Tea Master's tip: Mellow, deep gold and full bodied- that's Darjeeling Second Flush. Warm and autumnal, it is so intensely fruity and full bodied that no garnish needs to be added. Milk and sugar are sacrilege.
ASTER DARJEELING
Chamomile belongs to the Aster family
1 cup water
1⁄2 tsp Darjeeling First Flush
1 tsp chamomile flowers (dried)
Place chamomile flowers in a glass pot. Heat water to 900- 950C and pour it over the flowers.
Infuse for 1 minute. Add tea leaves and stir gently. Steep for 5 minutes. Strain. Serve warm.
Tea Master's tip: A picturesque brewing takes place with chamomile forming a flowery umbrella over the tea leaves which swim and settle down. The yellow centre of chamomile has composite fused flowers with aromatic compounds. It's calming and sedative properties induce a sense of peace.
MULLED TEA
3⁄4 glass water
3⁄4 tsp Darjeeling First Flush 1⁄4 glass orange juice
(at room temperature)
1 clove
1 cinnamon quill (1 cm)
1⁄2 aril of mace
2 lemongrass stalks
2 orange peel pieces (dried) 1 star anise for garnish
Warm water to 400C. Pour over clove, cinnamon, mace, lemongrass and orange peel. Steep till the brew cools to room temperature. Reheat the water without straining, to 900-950 C degrees.
Put in the tea leaves. Steep for 4 minutes. Strain. Add orange juice.
Garnish with star anise. Serve warm.
Tea Master's tip: A festive tea with extracts of herbs, plants and fruits, ideal for a chilly winter evening.