Blog
Gopaldhara Tea Estate, Darjeeling
によって Nikita Mittal オン Dec 29, 2022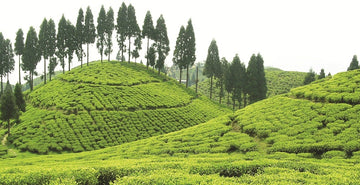 Gopaldhara Tea Estate
A tea estate is an Indian tea farm where tea is grown, harvested processed, and made ready to sell in the market. Tea is one of the top products exported by India and Indian tea is well-known across the farm. There are many tea estates in India where tea is grown. One such estate is the Gopaldhara Tea Estate. Contact Mittal Teas if you want to skip the hassle of trying different samples and negotiating the right price. 
About Gopaldhara tea estate 
The Gopaldhara tea estate is an Indian tea garden located in the Darjeeling hills, which is internationally renowned for its tea. The estate is in the Mirik CD block of the Mirik subdivision in the Darjeeling district, West Bengal. The estate is operational since 1881 and the Gopaldhara tea produced here is very popular among tea lovers.
The estate manufactures tea at the highest altitude possible. (5500 to 7000 feet). They are known for offering the best quality tea that has won many awards. The Australian Tea Export 2018 and Prix Epicure De L'epicerie fine are some awards won by the estate. They also have certifications to ISO 22000, FSSAI, and are part of the Ethical Tea Partnership & Rain Forest Alliance.
Interesting facts
Here are some interesting facts about Gopaldhara tea estate that you would find interesting:
The estate name comes from the original owner of the land where the tea estate stands. Reportedly, the land belonged to Gopal and there was a dhara or stream in the fields. This is how the name Gopaldhara originated.

The tea estate changed ownership many times. At present, it is managed by the Sona Tea group owned by the Sarias.

The high elevation offers a unique combination of moisture and sunshine, while results in the finest quality tea being produced.

Premium Darjeeling black tea, white tea, oolong tea, green tea is produced at the estate. Most of the tea produced is exported.

A total of 90,000 kg of tea is produced in the tea estate that spans 320 hectares.
Teas offered
Gopaldhara Estate is known for offering some of the finest teas that connoisseurs would relish. The focus on quality at all stages of manufacturing and the adherence to standards ensures the tea produced here is of premium quality. It is no wonder that much of the tea is exported to other countries.
The following is an overview of the Gopaldhara tea products:
1) Black Tea
Gopaldhara Black and Muscatel

Gopaldhara Darjeeling Moonshine – classic series

Chamomile Black Tea

Rose Black Tea

Roasted Leaf Tea - black
2) Green Tea
Gopaldhara Darjeeling Jasmine flower green gold

Darjeeling Green tea broken

Premium Spring Green tea

Gopaldhara Chamomile Green Tea
3) Oolong Tea
Rohini Fruity Oolong Classic series

Rohini Peppery Oolong first flush 2022

Gopaldhara Garden of spring first flush

Gopaldhara Premium Autumn Red Oolong
4) Rare Tea
Gopaldhara Darjeeling Spring Peony Master series

Rohini Plum Muscatella Royal series

Rohini Gold Buds Black Second flush tea

Gopaldhara Gold Thor rare hand rolled second flush
5) White Tea
Jasmine scented silver needles

Darjeeling tea starter kit – scented tea combo

Rohini peppery white royal series

Rohini Autumn Moonlight white Oolong