Green Tea Variants (Jasmine, Kahwa, Peach & 6 others)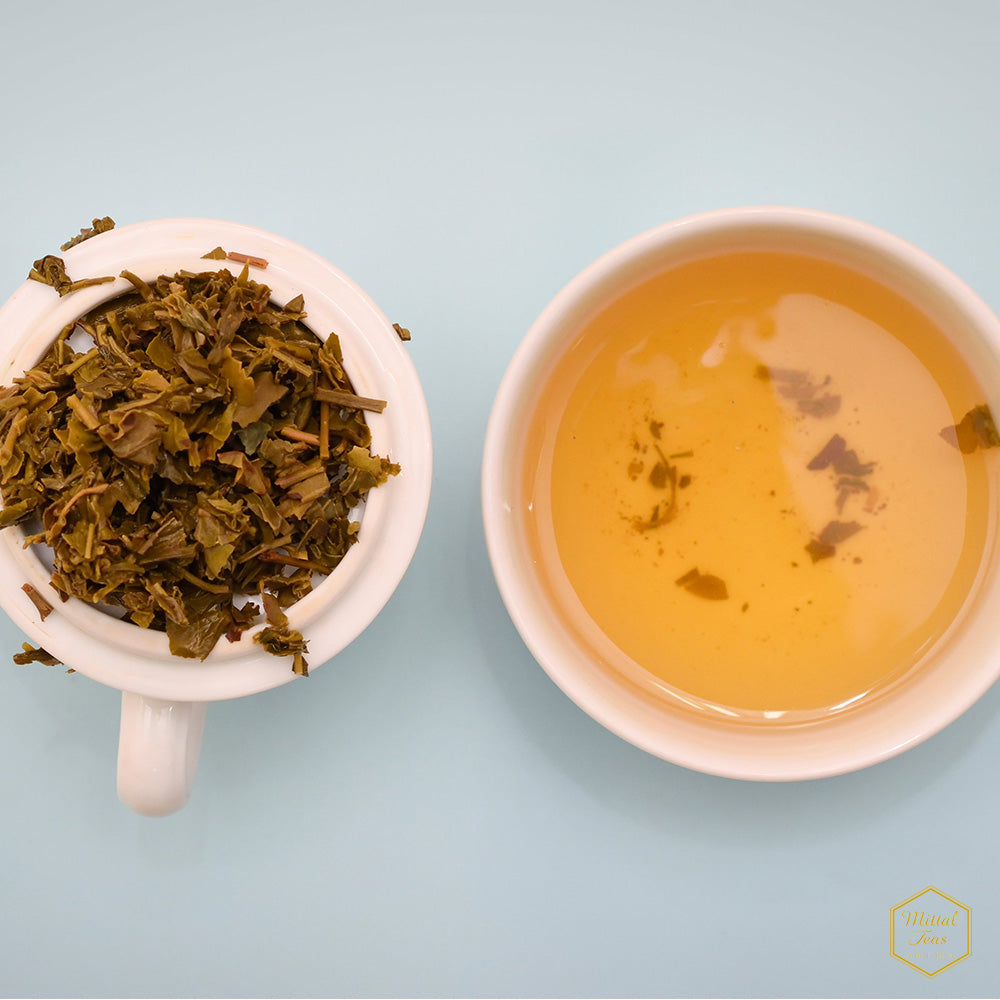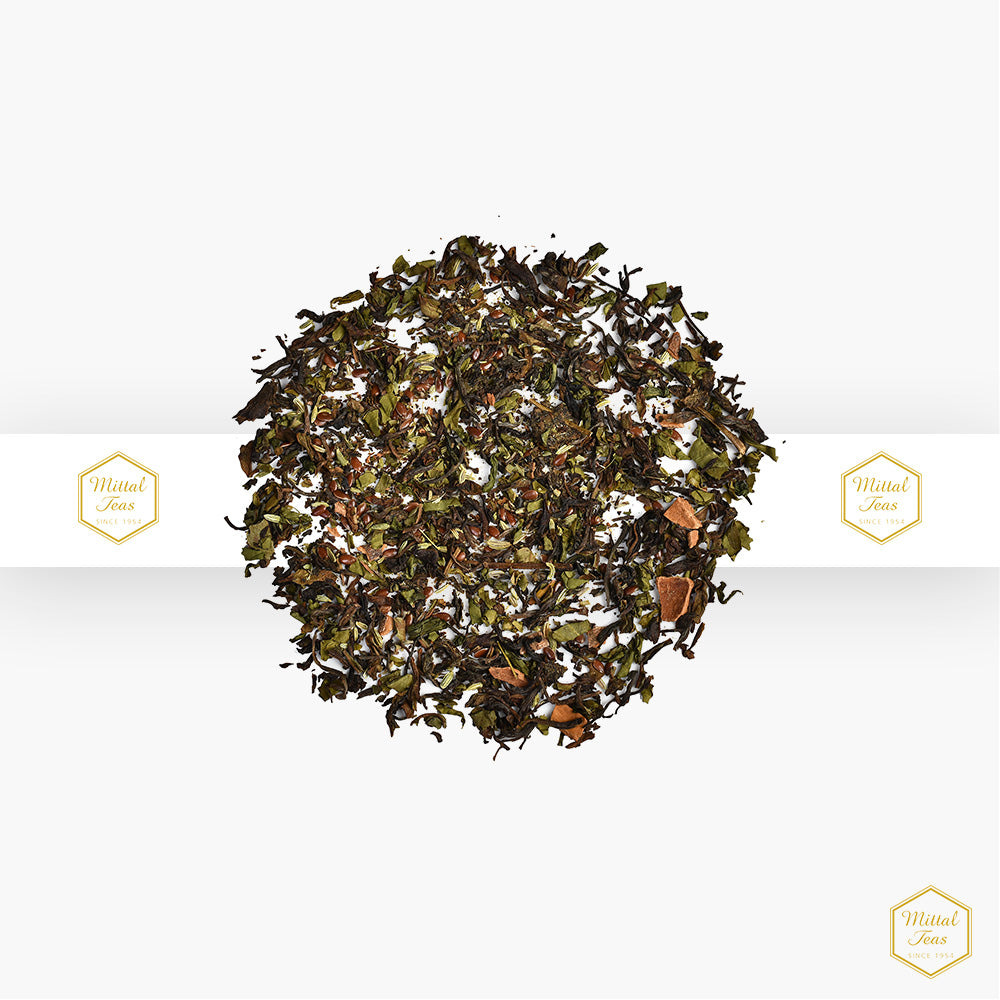 Free Shipping On Orders Above INR 350
Authentic Indian Flavors:
Mittal Teas offers the true taste of India in every sip, with authentic blends and pure ingredients.
Curated by professional tea tasters:
Our teas are carefully curated by skilled & experienced tea tasters, ensuring a premium and unique tea experience.
Purity and Freshness:
We source the freshest tea leaves, herbs and spices, providing a pure and invigorating tea experience.
Convenience in Every Sip:
Mittal Teas offers tea solutions that are both convenient and rich in flavor, perfect for any tea lover.
Cultural Heritage:
Immerse yourself in the rich cultural heritage of India with our tea blends that capture the essence of the region.
Green Tea Variants (Jasmine, Kahwa, Peach & 6 others)
Green Tea Variants (Jasmine, Kahwa, Peach & 6 others)
Green Tea Variants (Jasmine, Kahwa, Peach & 6 others)
Green Tea Variants (Jasmine, Kahwa, Peach & 6 others)
Rich, flavourful
I am enjoying the jasmine tea...i find even a quarter teaspoonful of leaf steeped for 3 minutes makes a nice relaxing brew...
Product description
Shipping & Return
 Chamomile Green Tea
The goodness of Green tea with calming properties of Chamomile or Camomile. This blend is good for soothing the nerves, headaches, toothaches, menstrual cramps, mild skin issues,  stress, and anxiety.
Rose Lavender 

Green Tea



Green tea blended with dried rose petals and lavender buds. This blend is aromatic, floral, stress-relieving, good for hair and skin, and therapeutic.
Jasmine 

Green Tea

Green tea with Jasmine essence and flowers. This blend is heavenly for aromatherapy enthusiasts. Apart from the many health benefits, this tea is one of our bestsellers.
Kashmiri Kahwa 

Green Tea

A Kashmiri recipe, this blend has Green tea, Green Cardamom Pods, and Cinnamon bark. Exquisite and royal. Aside from many health benefits, this tea is perfect to create a Christmas vibe anytime anywhere. Garnish it with almonds and saffron to transcend the experience. 
Organic (Plain) 

Green Tea

Darjeeling Green Tea grown at 1500m, this tea is non-bitter, slightly fruity, and well rounded. 
Weight Watcher 

Green Tea

A blend of Puerh, Flaxseed, Oolong, Cinnamon, Fennel, Moringa. This blend mainly works on improving the digestive tract and metabolism which in turn helps fight weight gain. It is also good for overall well-being.
Healthy Heart

Green Tea

 A blend of Green tea, Cinnamon, Arjuna Bark, and Hibiscus.
Apple Cinnamon 

Green Tea

A mellow green tea supplemented by spicy fragrance and a hint of fruit. Abundance of good health and great taste.



Mint 

Green Tea

Refreshing and healthy. This blend of Green tea and fresh mint from Himachal Pradesh is great for summers and cooling your body from inside. Mint is also good for digestion and oral health.
Tulsi 

Green Tea

A blend of Green tea and tulsi, this blend has numerous health benefits. In India, tulsi or Holy Basil is worshipped in many households. It has an earthy and smooth flavor. 
Hibiscus Mint 

Green Tea

Tangy, tasteful, and refreshing. The wine-like color is picturesque, the aroma is fresh, and the experience will remind you of a tropical holiday. Recommended ice cold.

Jasmine Ginger 

Green Tea

A unique combination of calming Jasmine and zesty dried Ginger rhizome. This blend is soothing yet energizing, and simply delectable.

Peach Chamomile 

Green Tea

The aroma will remind you of fresh Peaches, the taste is a balance of high-grown green tea and Chamomile flowers. Pleasant on the palate and soothing for the nerves.
Brew Time: 3 min
Shelf Life: 2 Years
Storage Instruction: Store in an airtight container, away from light and moisture.
For tin of gift packing, please see the gifts section.
Shipping cost is based on weight. Just add products to your cart and use the Shipping Calculator to see the shipping price.
We want you to be 100% satisfied with your purchase. Items can be returned or exchanged within 30 days of delivery.